An auto glass insurance claim is a request made to an insurance company for compensation following an incident that results in damage. Auto glass repairs can be expensive, so you will want to know how to file an insurance claim.
Most of the time, a windshield claim won't increase your premium. To avoid making any costly mistakes, follow the process below.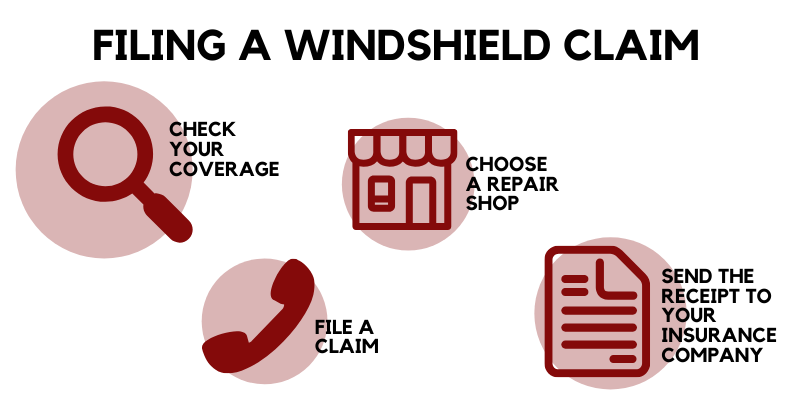 1. Review your insurance coverage
Check your policy to verify that you're covered for repairs. Most Minnesotans have a full safety glass endorsement on their policy if they carry full coverage, so the cost of the repair is completely covered.
If you don't have the endorsement, you may still be able to get the repair covered. Windshield damage falls under comprehensive coverage, which is optional unless you are financing, leasing or renting the vehicle, in which case the lien holder will require you to carry it.
Comprehensive coverage covers damages that weren't caused by vehicle collisions such as animal collisions, fires, vandalism, and storm damage.
Your windshield repair will be covered if you carry comprehensive insurance. However, you may have to pay a deductible if you don't carry a zero-deductible policy.
2. File a claim
To have your windshield replacement covered by insurance, a claim must be filed. After the incident occurs, contact your insurance agent. Follow the directions your agent gives you to provide all documentation related to the accident and file your claim. Most insurance companies let you file a claim by a phone call, mobile app, online, or in person.
Ask your agent about time limitations for filing your claims and submitting bills, when you can expect the insurance company to contact you, and whether you need estimates for the damages.
However, at Auto Glass Express, we'll do the work for you. We are approved by all major insurance companies and our technicians are AGSC-certified. If you're too busy to file your claim, all we need is:
The name of your insurance carrier
Your vehicle's policy number
Your vehicle's year, make and model
The date the damage happened to your vehicle
After collecting your information, we'll call your insurer and set up the claim. Then, we'll handle the paperwork and directly bill your insurance company, leaving you to enjoy a few extra hours of your day.
3. Contact a local AGRSS repair shop
Unlike other states, drivers in Minnesota have the right to take their vehicles to the repair garage of their choice. The insurance company cannot provide a limited list or use coercion to force a customer to follow the insurance company's directive.
However, the insurance company may require you to get one or more estimates, and if your shop is not the low bidder, you may be responsible for paying the difference. If your insurance company requires more than two estimates, it must pay for the additional estimates.
For a job done right, contact a repair shop that is a Registered Member Company with the Auto Glass Safety Council (AGSC formerly AGRSS) and employs AGSC Certified Technicians. These technicians have knowledge in all types of auto glass replacement, vehicle occupant safety, adhesive systems, custom-cut laminated glass parts, and safety procedures.
These qualified shops may not offer the lowest price for their services, but they will provide better work. Keep in mind that you get what you pay for.
Registered Member Companies meet the AGRSS Standard and are committed to safety and quality at the highest level. An Auto Glass Safety Council AGRSS membership includes random third-party safety audits, continuing education, and higher quality work. These companies abide by federal, state, and local legal requirements and promptly fill contractual obligations.
4. Submit the receipt
Following the repair, make sure to send your name, policy number, phone number, and the date of damage to your insurance company.