A rock chip in your windshield can be really annoying. And if you aren't ready to spend for a new windshield, you may be able to fix the chip with a windshield repair kit. These kits are available at auto parts stores and are inexpensive compared to a complete repair. However, it is important to keep some things in mind if you do-it-yourself (DIY).
DIY Repair Kits provide instructions, but not experience
An experienced professional auto glass technician has repaired hundreds of windshields. With each day on the job, they continue to hone their craft and gain additional experience with each repair. Knowing exactly how much pressure to apply or the proper amount of resin cannot always be communicated via an instruction sheet. There is value in getting the job done. There is also value in getting the job done right.
High-quality supplies lead to high-quality repair

Not only do professionals have the training and experience to repair chips, they also have all the right equipment and high-quality resin that will get the job done right. Through experience, professional auto glass technicians know what viscosity is needed based on the damage and windshield temperature. Many windshield repair kits do come with the necessary tools, but as one would expect, those tools are designed for one-time use and are disposable. Using the right supplies with tools that are designed for the job will make any repair, easier.
DIY Repair Kits lack safety considerations
Although windshield chips can be small, they can compromise the windshield's primary role as a safety device. A properly installed and repaired windshield plays a role in supporting the vehicle roof in a rollover to help prevent it from collapsing. For the safety of you and your passengers, it is important that your windshield is repaired by a professional.
DIY Repair Kits do not prevent further cracking
Repair kits are not designed to be a permanent fix. Instead, they are an inexpensive "Band-Aid" that will work only until the "Band-Aid" comes off. A windshield chip or crack that is repaired with a DIY Repair Kit will eventually need to be replaced or repaired.
By using a DIY Repair Kit you are spending a little money now ($10-$15), in order to pay for a full replacement or repair later. In the long run, the DIY Repair Kit is as an additional expense as you'll eventually have to pay for a full replacement or repair.
Insurance may cover the repair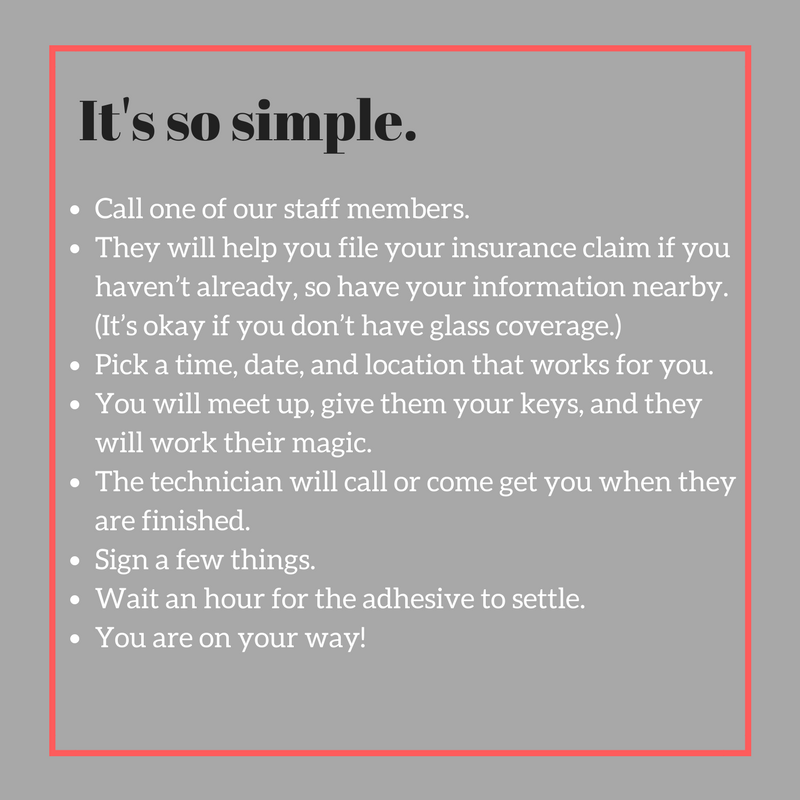 If your glass insurance covers the repair there is very little you need to do. Simply call and schedule your windshield repair and Auto Glass Express will handle the insurance claim for you. All major insurance companies have approved us and if you are too busy to file your claim, all we need is:
Name of your insurance carrier
Your vehicle's policy number
Your vehicle's Year, Make and Model
The date the damage happened to your vehicle
From there, we'll do the work for you! We handle the paperwork, assist in setting up the claim, and directly bill your insurance company. Since every windshield is replaced using AGSC standards by AGSC technicians, insurance companies respect our work and know that it will be done right.